Celebrating National Volunteer week at Extendicare Southwood Lakes and Tecumseh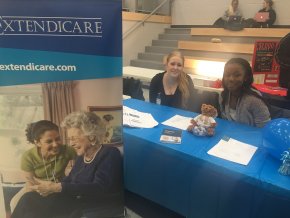 On March 23rd Extendicare Southwood Lakes and Extendicare Tecumseh teamed up for a Volunteer Fair at St. Clair College. Over the past several years both homes have had the benefit of student placements from the Social Service Worker- Gerontology program from the college.
Lara Hristoff, Resident Program Manager said "When we learned of the Volunteer Fair we thought what better way to promote our homes volunteer program than to send our two co-op students Lolade Adams and Sarah Campagna to the event., she added "Our students were able to meet with their peers and discuss the many opportunities, benefits and rewards our volunteer programs offer."
She also added that many of their residents enjoy sharing their life experiences and spending time with younger people. Their hope is that by having students attend this event they will encourage college students to consider volunteering in the homes and maybe even choose a career in Long-term care.
By: Lara Hristoff, Resident Program Manager - Extendicare Southwood Lakes